Student Spotlight: Kelsey Ball
Written by: Sarah Gorden
Photographed by: Jaylen Early
Unique and refined: a glimpse into student designer Kelsey Ball's mission to sew her way to the top of the fashion industry.
For student designer Kelsey Ball, coming to Missouri State was an easy decision. "I'm from Springfield, I've grown up here and went to highschool here. It was close to home and I knew they had a design program." Ball says she knew she wanted to go into fashion design starting in high school but began to question her major once she started college. "It is hit or miss if you'll make it in the industry, but I decided to go with my passion", said Ball.
"The fashion industry is hit or miss, but I had to go with my passion."
The uncertainty and competitive nature of the industry at first gave her doubts, however she knew fashion was her calling and decided to fearlessly pursue her dreams. Her ambitious dive into the world of fashion has already began to pay off, as she landed an impressive internship in Milan, Italy over the summer. "I interned for Milano Confezioni. She's an independent designer with only a few employees who creates custom designs. She has clinents that bring her their ideas and sketches and then she creates the pattern work and prototypes for them. She works with clients across Europe, but a lot of the time I would sit in on meetings that were completely in Italian. On a daily basis I mostly was sewing, which is what I wanted," Ball says of her internship. Kelsey's hard work and commitment to the technical side of the design process did not go unnoticed by Confezioni. As her internship came to an end, she was asked personally to create a design that they would work together to bring to life.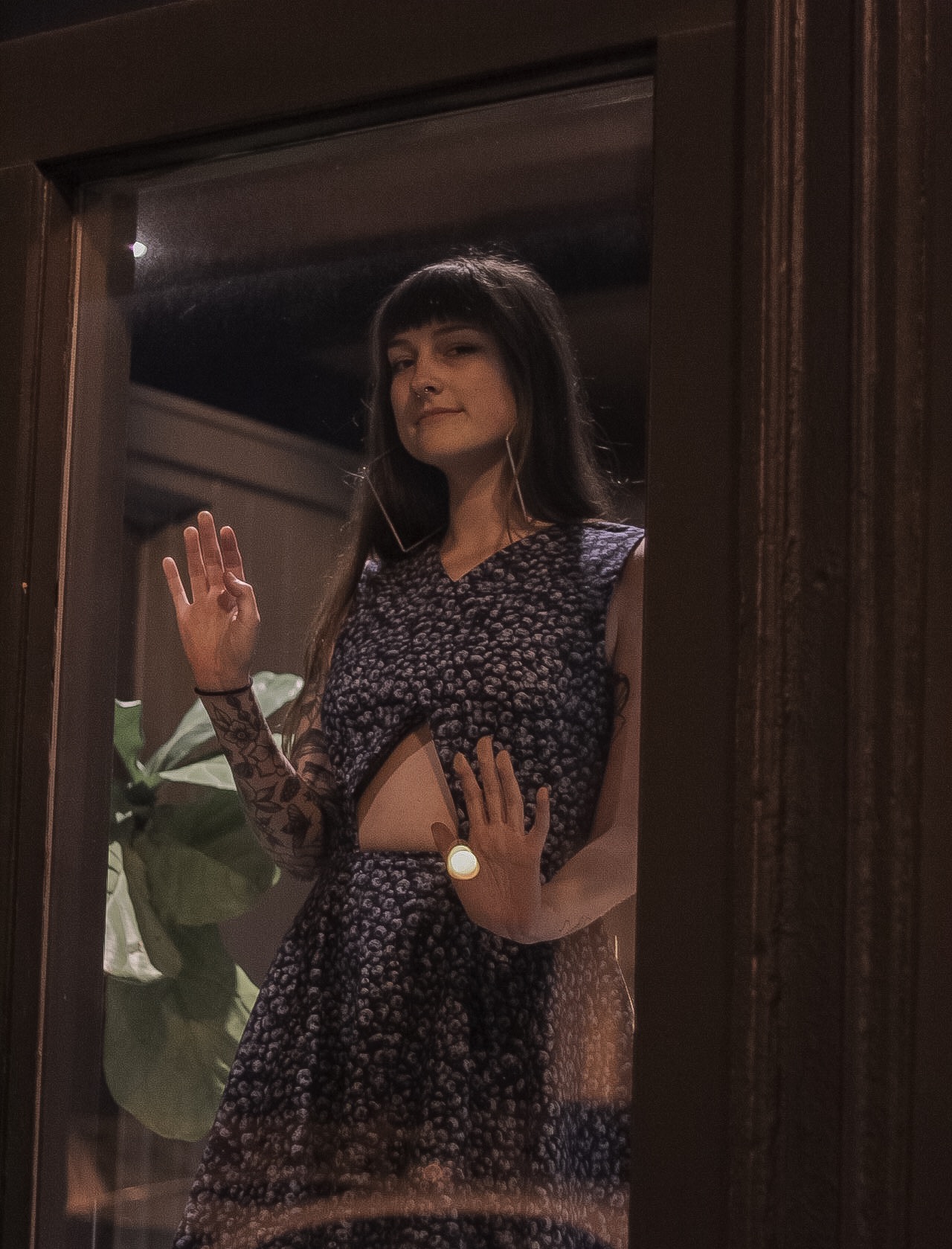 "With every outfit I like to include a piece that is kind of off the wall that not everyone would wear."
As for the next step in Ball's design career, she is headed full speed into designing her senior collection/ A final project in which student designers are able to showcase their skills and aesthetic, along with building their portfolio by creating 5 cohesive looks. She currently has two concepts for a collection brewing, both of which strongly represent her direction as a designer. "My first idea is called geometric pastel. It would consist of a lot of lines and angles. I want to use the tailored aspect to show off my construction skills and I want it all to be very crisp. My second idea is called sheer transparency. This is inspired by a few of my favorite personal pieces that I have thrifted which are a sheer blazer and button up. I've always really liked the concept of using sheer fabric for tailored pieces," said Ball. The two collections are vastly different, with one leaning to a more avant garde side, and one more wearable, which only goes to show her design versatility.
Upon graduation, Ball plans to remain open minded about her career options. "I want to start by getting my foot in the door by getting a reliable, well paid job", she says. "Ideally, I want to go to the west coast because I love the beaches and the weather, but I'm down for any big city." Eventually Ball wants to work for a larger designer and sew for them. "My dream is to be able to sew and create runway looks. I want to work in the studio and actually make the garments," she says.
I had the chance to ask Kelsey a few personal questions about her style and aesthetic, here's what the aspiring designer had to say.

Q: What is your personal favorite design you have ever created?
A: The blueberry dress was one of my favorites pieces. I created it in draping class. It was the most unique looking piece I've made so far because for a lot of my other pieces, I wanted to keep simple to really get the hang of the patterning process and focus on fit. Now that I'm feeling more comfortable with pattern work I am really excited for my senior collection. I feel like I have so many ideas.
Q: How would you describe your aesthetic and personal stye?
A: It's hard to label yourself, but I like statement pieces. With every outfit I like to include a piece that is kind of off the wall that not everyone would wear. I'm all about comfort. I love thrifting, most of the clothes I wear are thrifted.
Q: Who is your favorite designer?
A: I love Gucci. I love their recent collections with all of the beautiful patterns. Definitely my favorite high end designer. I also get a lot of inspiration from Iris Apfel. I watched her documentary and I've been in love with her even since. She's definitely my idol.


Q: What is your favorite trend right now?
A: Bell sleeves and hoop earrings.